7 Ways to Glam up your Garage Door
12/19/2016
Back To Blog
Just because your garage door is on the outside, doesn't mean it can have a little TLC. Garage doors add appeal to the outside façade of your home and there are different ways to you can glam it up. Here are ten easy ways to upgrade your garage door without much fuss, cost or time.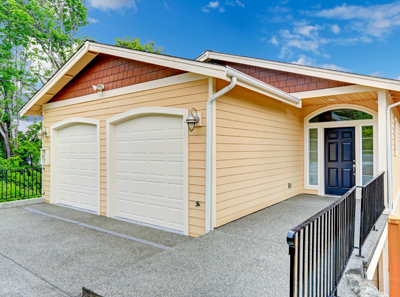 The Bold & Bright
Of course, colors help lighten any home's front façade. It also gives the illusion of a wider driveway. Paint your garage doors a complimenting color to give depth and contrast to the whole house. Choose bright colors if your home has more neutral tones or go with dark colors with the walls of your house has a lighter tone. You want to add contrast to the area.
Frame & Lighten it Up
Garage doors can also be framed using the same designs of the main door of the house. Take some elements of the house such as a brick façade to match the columns of the house or add in an overhead trellis to set off space and define the doors. You can also add some wall scones to lighten the garage doors.
Add Some Texture
Landscaping and a collection of textural plans offer design accents to a garage door. Add in some paneling to an otherwise minimalist garage door to add contracts and texture.
Use Paint & Plant Things
A fresh coat of paint can lift and rejuvenate the entire home's front façade. Plant a garden bed with different plants and trees to lessen the abrupt transition between driveway and garage.
Stain, don't Paint
If painting isn't what you want to do, then staining your aluminum garage doors is another way of upgrading. You can stain it a faux-wood color to instantly add charm and class. There are several staining options that you can use, but the most popular are to revamp an aluminum or steel garage door to a faux wood one.
Use Faux Designs
Like the look of carriage doors? Most garage doors open by going up and not open out. If you like the look of carriage doors, add in some hardware like door handles to create the look.
Change with the Seasons
Think out of the box and decorate your white garage door according to the seasons. Whether it's Christmas, Halloween, Thanksgiving or New Years- change the look of your doors to stay updated with the season and create a statement.